Users of Small Unmanned Aircraft (SUA), sometimes called Unmanned Aerial Vehicle (UAV) or drones, are advised to pay attention to safety issues.
People flying drones should understand that they are subject to aviation rules and should not treat the devices as harmless gadgets or toys.
Know the rules and regulations for drones in Bermuda
When flying unmanned aircraft you need to follow the rules set out in Article 73 of the Air Navigation (Overseas Territories) Order (AN(OT)O) 2013.
Bermuda's drone rules are in place to protect members of the public from injury and protect property from damage. Although relatively small in size, drones may pose a significant collision risk to other aircraft if they are not flown sensibly.
There have already been deaths and serious injuries attributed to drones crashing.
The BCAA stresses that users must take personal responsibility when flying drones and abide by the rules. Any person who contravenes, permits the contravention of, or fails to comply with the rules and the directions put in place by the BCAA for purposes of confidentiality, safety and security, commits an offence and is liable to prosecution.
Be aware – Bermuda has multiple no-fly zones!

In Bermuda, we currently have five restricted areas where drones cannot be flown without certain permissions. Flying in these zones may lead to criminal prosecution and fines.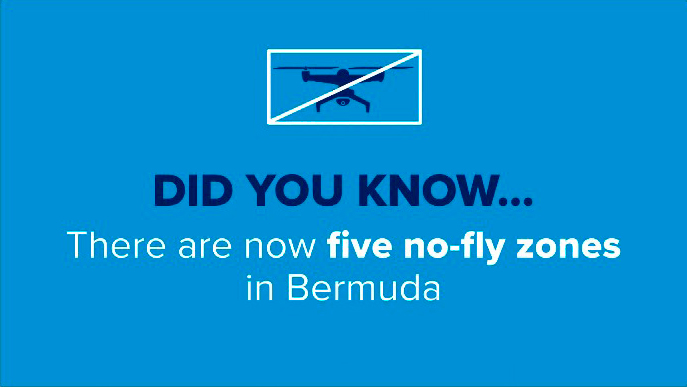 Download a PDF of all no-fly zones
Here are the rules you need to know and follow, before you take off:


​
YOU ARE RESPONSIBLE FOR EACH FLIGHT
You are legally responsible for the conduct of each flight. Take time to understand the rules – failure to comply could lead to a criminal prosecution.

​
BEFORE EACH FLIGHT, CHECK DRONE FOR DAMAGE
Before each flight, check that your drone is not damaged and that all components are working in accordance with the supplier's user manual.

​
KEEP DRONE IN SIGHT AT ALL TIMES
You must keep the drone within your sight at all times and never fly above 400 feet (120 m). This means always being able to see the drone with your own eyes (rather than through a device, screen or goggles).

​
YOU ARE RESPONSIBLE FOR AVOIDING COLLISIONS
You are responsible for avoiding collisions with other people or objects – including aircraft.

​
RESPECT PEOPLE'S PROPERTY
You may only fly your drone over your own property or property the owner of which has given you permission to fly over.
​
DO NOT FLY OVER CONGESTED AREAS
It is illegal to fly your drone over a congested area (i.e., streets, towns and cities). Also, stay well clear of airports and airfields.

​
KEEP YOUR DISTANCE
Don't fly your drone within 50 m (165 feet) of a person, vehicle, building or structure, or over groups of people at any height.
​
CONSIDER RIGHTS OF PRIVACY
Respect personal privacy. Think before doing anything with any images you obtain as you may end up breaching privacy laws.

​
PERMISSION TO FLY OVER GOVERNMENT LAND
Please email the Bermuda Department of Parks at parksdept@gov.bm to apply for a permit to fly over Government Land.

​
NO-FLY ZONES FOR DRONES IN BERMUDA
There are several no-fly zones in Bermuda – check for any airspace restrictions in your area before you fly.
Download a PDF of all no-fly zones
Please subscribe to our website for updates.